The end is nigh for Canada's housing market downturn, RBC reports
3/8/2023 | SHARE
Posted in Canadian Economy and Interest Rates by Anthony (Tony) Barone | Back to Main Blog Page
But the road to recovery is a long one uphill, it warns
Royal Bank of Canada (RBC) has published its report and outlook on the country's housing market and sees the market downturn headed towards its conclusion.
Speaking for RBC Economics, Robert Hogue said that Canada's housing market was still in the process of correcting itself but showed signs of "gradually letting up". RBC expected housing activity to bottom out "sometime this spring", followed by prices finally levelling on the condition that the Bank of Canada held off on raising interest rates.
RBC predicted a 15% peak-to-trough drop in the national RPS home price index – meaning that half of the damage was still to come – before the recovery phase could take place.
The bank's forecast was a relatively bright one, but Hogue warned housing bulls against too much optimism, as what would happen after prices levelled – assuming they did – would only disappoint them.
"We see the recovery phase starting slowly later this year as affordability issues and a weaker economy continue to hold back buyers," Hogue said in the Royal Bank report. "The pace should progressively pick up in 2024 once the economy clears its soft patch, inflation returns to target, and the Bank of Canada reverses part of the massive rate increases it's imposed since March 2020."
The influx of immigrants would fuel demand for housing in the medium to long term, which in turn raised the possibility of further supply shortages across the country if homebuilding failed to step up.
And homebuilding would prove to be the key to restoring long-term balance to the Canadian housing market, RBC said. It described Canada's recent track record for construction as "underwhelming", having picked up over the last three years from under 190,000 units in 2019 to around 220,000 in 2022 but "nowhere near enough to meet supercharged demand".
The report projected that housing stock across the country had to grow by at least 270,000 more units every year by 2025 in order to sufficiently house Canada's growing population and rebound from the housing affordability crisis.
"It's unclear, though, whether the construction industry has the capacity to do so in the face of significant labour shortages," Hogue said.
Canadian home resales were back to recession levels and "the quietest [they have] been" since the 2008/2009 global recession, RBC reported. This marked the official end to back-to-back years of the housing market frenzy triggered by COVID-19 last March 2020.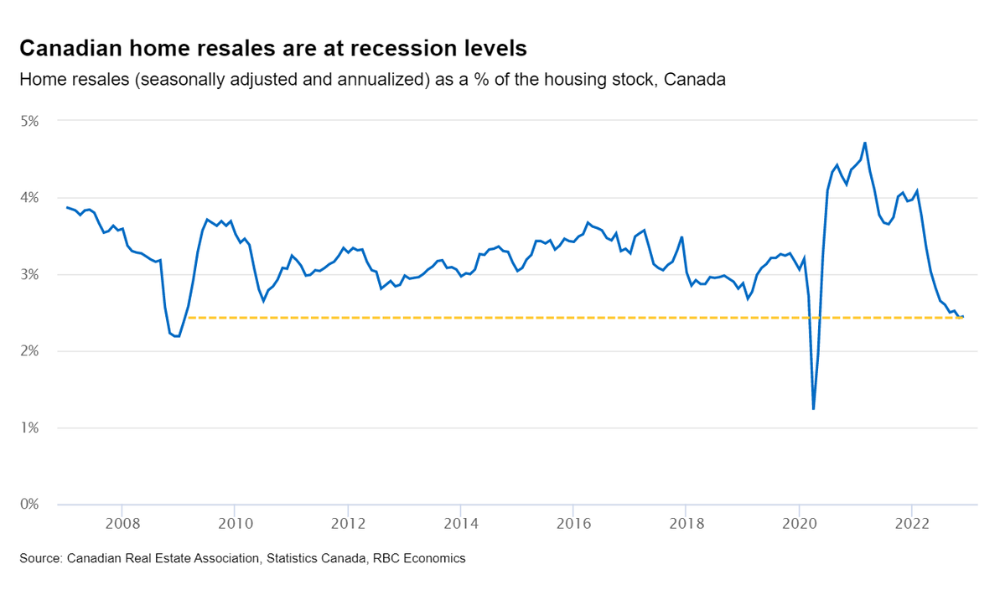 Still, RBC noted that the country's resale slowdown has not been as slow since the fall.
The reason for this was simple. "Activity is now deeply depressed in most markets," Hogue said, "and unless the economy craters – not our base case – there's little downside left."
RBC predicted that resale activity would bottom out in the next coming months, with some markets – such as Ontario and Atlantic Canada – hitting their lowest ahead of others – such as Quebec and the Prairies.
Another driving force behind the resale slowdown moderation was the Bank of Canada's rate-hiking cycle – or, more accurately, the pause it was likely in. The Royal Bank projected that the BoC's 25-basis-point rate hike last January was the final uptick to the historic, 425-basis-point interest-rate climb, and that market sentiment would brighten as soon as participants came to the same conclusion.
"Any downward drift in longer-term bond yields … is also likely to be viewed as a positive sign of a turnaround," Hogue added in the report. "But these factors will help stabilize the market, not prop it up. We see the interest rate environment remaining restrictive for a while, and the Bank of Canada abstaining from cutting rates until 2024."
The Royal Bank also projected that the housing affordability crisis, which lingered since 2021, would linger for a while longer before it eased up. This was especially true of B.C., Ontario, and other expensive markets across Canada, where prices burgeoned over the pandemic.
Home prices would thus continue to decrease in the next months, with markets in B.C. and Ontario still bearing the biggest downside risk.
"Our peak-to-trough price forecasts range from -19% in Ontario and -16% in B.C. to -6% in Alberta and -5% in Newfoundland and Labrador," the report said.
Source: Canadian Mortgage Professional
Bank of Canada Benchmark Rate, Canada Real Estate, Canadian Economy, Canadian Home Sales, Canadian Housing Market, Canadian Housing Market Downturn, Canadian Housing Market Recovery, Housing Correction Canada
Thinking of buying or selling a property, or have a question regarding the real estate market? Fill out the form below and I'll get back to you promptly.